A sound there is between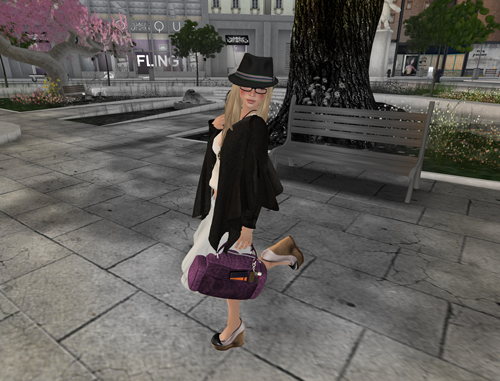 It's been quite a while since my last post (three weeks, oh dear) so today I have a urban summery outfit for you all.
I was overjoyed to find this waterfall-style cardigan among the new releases at Beetlebones, as in RL I have one just like it! They're really useful and go with just about anything. I teamed this up with this week's Fifty Linden Friday offerings from Milk Motion - a lovely skin-coloured cami and white harem pants. Both the gorgeous shoes and lovely quilted bag are from Kookie's summer sale and cost 50L each, so hurry and grab these at the low price while you can :)
The hair and hat are a purchase from fri.day I've been wanting to put into an outfit for a while now. The hat colour, texture and band style are highly customisable, which I love! The glasses and necklace are favourites from Fishy Strawberry and Whippet & Buck respectively. Finally, the gorgeous skin is from Mynerva's brand new line of freckled, 'touched by the sun' releases. These come in a wide variety of shades. I love how creative Rhapsody Wilde has been with the differing 'arrangements of freckles' - these skins are fun and very quirky!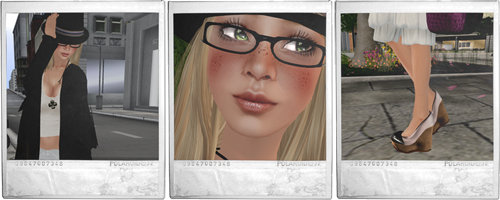 Style notes:
Skin: Plain Jane Dolly Dots in Butterscotch by Rhapsody Wilde # NEW
Hair: Victoria in Delighted Blonde by Parvati Monday #
Eyes: ~Mynerva~ SoulHeart Eyes in Velvet Green by Zarothan Wylder #
Glasses: *Fishy Strawberry* College Glasses by Fae Eriksen #
Necklace: [W&B] Repairs Necklace in Gold/Onyx by Dakota Buck #
Cami: (Milk Motion) my cropped tank in Nude by Marie Lauridsen # 50L FRI
Cardigan: BB* Light Cardigan in Black by suetabulous Yootz # NEW
Trousers: (Milk Motion) My harem pants in White by Marie Lauridsen # 50L FRI
Shoes: *Kookie* Powder Puff in Cloud by Kookie Lemon # SALE
Bag: ::Kookie:: Ostrich bag in Purple by Kookie Lemon # SALE
Poses: (marukin) by Valencia Southard #
Listening to: Tha Caolas Eadar Mi's Iain by Julie Fowlis